Other Things...
Other notable and rather superb extras for your listening pleasure...
Music
Donderevo

Sadly no more, but these fellas were ace. Their album 'Good Science / Friendly Gods' on Lizard King can stll be found, and any fans of Super Furries, The Bees or Grandaddy really should. This little tune was put together exclusively for this site. So wherever they are now, thanks a million.
The Siamese Sluts
Bit of dirty old time rock n' roll from where witches were once rife.
The People's Choice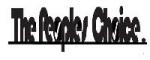 All the way from the badlands of Suffolk comes The People's Choice. Stripped down up-tempo radical reggae made by 6 lovers of the groove and the pint. It's tuff, it's new and the cherry on the cake is the fine vocal/mc styling of Mr Highly Strung. ENJOY !....
The People's Choice at MySpace